Happy May from TPC!
April was a busy month and offered us so many opportunities to work hands-on in the forest and share TPC's work with the community. Read on for a recap of Pisgah Project Day and The Block Party presented by Looking Glass Realty Asheville —two great days for Pisgah!
We're grateful for all of the funds and friends that were raised for TPC last month, and we're thrilled about the momentum behind some of our large-scale improvement projects in the district as we head into the summer months.
Happy adventuring!
Nina
It was the perfect Spring Day to jam out to live music performances, shop the local vendors' market, sip local craft beer, chow down at a food truck, and play some lawn games on South Liberty Street, all in support of our year-round efforts to improve the Pisgah Ranger District.

More than 1,500 people attended this year's Block Party and more than $11,000 was raised! Big thanks to our generous host, Looking Glass Realty Asheville, and the sponsors, musicians, vendors, and volunteers who helped to make the day a success!

New Hats and Patches Are Here!

Thank you to everyone who shopped our brand-new TPC merchandise at our April events! We'll have hats and patches available at future events and you'll soon be able to get your TPC merchandise fix at some of our retail partner stores. More details coming soon!

Make a Monthly Donation to Pisgah

Did you know you can set up a monthly donation to TPC? Simply visit our donation page and select "Show my support by making this a monthly donation." Monthly donations are a convenient way to support our ongoing efforts in the Pisgah Ranger District and allow you to show your support throughout the year!

We love seeing so many TPC license plates on the road. When you purchase or renew your TPC plate online or at your local license plate agency for just $30, $20 comes right back to Pisgah!
Thank you to our generous sponsors and dedicated partners for their support of Pisgah Project Day 2023!
Sponsors:
Transylvania County Tourism Development Authority
Trail Dynamics
Hunter Subaru
Oskar Blues Brewery
Blue Ridge Orthodontics
D.D. Bullwinkel's Outdoors
Fisher Realty
Mast General Store
Motion Makers Bicycle Shop and Sycamore Cycles
Pilot Cove
Range Urgent Care
Sierra Nevada Brewing Co.
Vulcan Materials Company
Adventure Pisgah
Bartlett Tree Experts
Comporium
GRAYL
Looking Glass Realty
O.P. Taylor's
Pisgah Coffee Roasters
Piney Mountain Bike Lounge
Pisgah Map Co.
REI
Water Oak Dental
3Oak Handcrafted
Altura Architects
Brevard Insurance Company
ELEVATE Physical Therapy
First Citizens Bank
FYZICAL Therapy & Balance Centers
Gaia Herbs
PLATT
Unplug with Nature Hiking Group
Jennings Builders Supply
Partners:
U.S. Forest Service
Back Country Horsemen of Pisgah
Carolina Climbers Coalition
Carolina Mountain Club
Pisgah Area SORBA
Pisgah Cowboys
FIND Outdoors
Trout Unlimited
NC Fish and Wildlife Conservation Council
Southern Appalachian Wilderness Stewards
Mountain True
Transylvania County Extension Master Gardeners
Caffeination + Collaboration:
Thank you, Pisgah Coffee Roasters!
Throughout the month of April, Pisgah Coffee Roasters sold bags of their specialty "Ranger Roast" blend benefiting TPC! Half of the proceeds sold were donated to us and thanks to the community's support of this partnership, nearly $1,100 was raised for Pisgah!
We're also grateful to Pisgah Coffee Roasters for keeping our volunteers warm and caffeinated on Pisgah Project Day. Be sure to thank them for all they do for our community next time you visit them on Asheville Highway in Pisgah Forest!
If you missed your chance to buy a bag of Ranger Roast last month, fear not - we have limited inventory remaining and will be selling bags of both whole bean and ground coffee at upcoming events. Stay tuned!
Congratulations to Our Specialized Wheelset Winner!
Thank you to Motion Makers Bicycle Shop and Sycamore Cycles for donating a Specialized Roval Terra CLX EVO Wheelset and for their support of TPC! This raffle helped to raise more than $1,200 and our lucky winner, Brandon Miller, was present at Oskar Blues when we drew the winning ticket!
Jeff's Trails Corner 5/17/2023
TOP DOUBLE IMAGE: Highway 215 Dumpsite cleanup crew led by NC Fish and Wildlife Conservation Council with the day's haul.
BOTTOM DOUBLE IMAGE: Volunteers led by the Pisgah Cowboys set a bog bridge over the slide on Daniel Ridge Trail.
IMAGE 3: New TPC Trails employees getting trained and certified in Crosscut Saw use by TPC Trails and Recreation Technician and crosscut saw instructor Simon Farr.
Pisgah Project Day 2023 was a great success, with over 365 volunteers from both the local community and far afield showing up to accomplish 26 different projects on the Pisgah.
Despite the threat of rain and some early morning booming and flashing, the day cleared up beautifully and provided perfect weather for hard work in the Forest. This year's projects included trail bridge construction and repair on Cat Gap Loop, North Mills River, and Lower Sidehill trails; maintenance, graffiti removal, and viewshed improvement at Looking Glass Falls; trail maintenance throughout the District including on Sam Knob, Barnett Branch, Daniel Ridge, North Face, Slickrock Falls, Haywood Gap, and Turkeypen Gap trails; heavy mechanized trail improvements on South Mills River and Cove Creek trails by Trail Dynamics and Allen Frost respectively; turnpike construction on the Eastatoe and Exercise trails; trash removal along Davidson River Road and at a dumpsite off Highway 215; demolition and removal of an illegal structure in Fate Osteen Cove, gardening and invasive species removal at multiple sites; and more.
With more projects, more partners, and more participants than ever before, this Pisgah Project Day was our best one yet! Great thanks to all of those who made this community-focused day of service possible and here's looking forward to next year!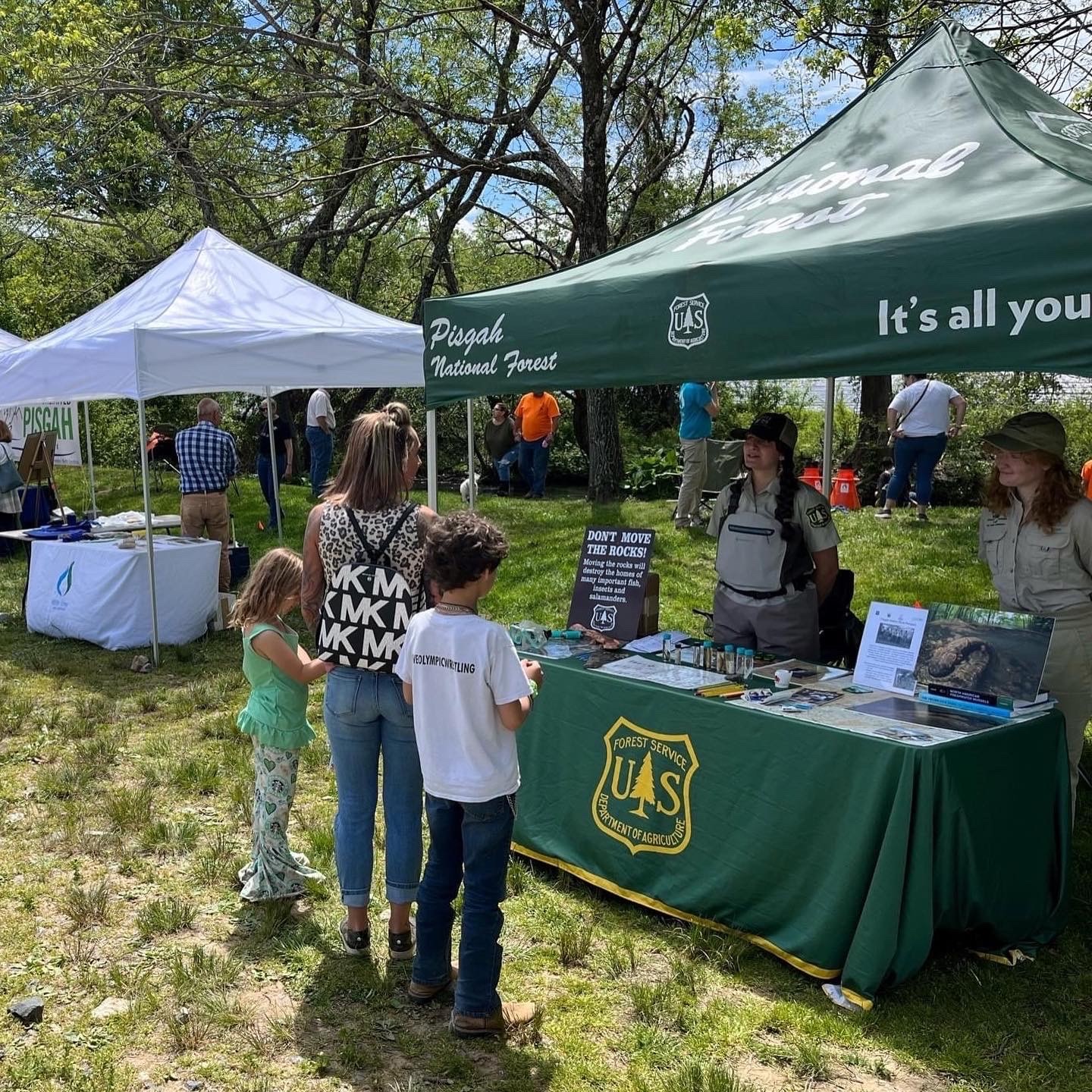 River Rangers Rachel Hess and Skylar Deaton teaching stream ecology and more at Mills River Days 2023
But no rest for the wicked as we spring into the summer season! Over the past month, we have brought on some crucial new members of the TPC team to hit the ground with direct improvements on the Pisgah. Our crew of River Rangers is back, with Rachel Hess returning as Lead River Ranger and 4 new River Ranger interns coming on board. They have been busy with training in natural resources management, habitat restoration, and outreach and education.
In addition, they have directly engaged the community with educational outreach focused on stream ecology at Mills River Days and will be tabling in collaboration with the Pisgah Chapter of Trout Unlimited at the Fly-Fishing Film Festival at Oskar Blues this coming Friday. Come and join them if you can.
Heavy rock armoring by Trail Dynamics on the South Mills River Trail
Two new TPC Trail Crew Leaders have also joined the team this month. Both highly skilled trail professionals with extensive field experience, they will form the backbone of a TPC trail crew being stood up for the coming three years to focus on repairing damage to the trail system caused by the impacts of Tropical Storm Fred. Made possible through a partnership agreement with the US Forest Service, this crew will address the gamut of needs on these trails from general maintenance, tread repair, and drainage improvement to bridge construction, large-scale trail improvement projects, and heavy equipment trail restoration. This is a truly exciting development, and a long-held ambition of mine, that fills a very real need in the district for full-time trail workers to address these issues and impacts on our extensive trail network. Be sure to check out next month's Trails Corner for more in-depth introductions to our new Trail Crew Leaders and River Rangers.
Many thanks to you all for your continued support of The Pisgah Conservancy and Pisgah National Forest! Hope to see you out in the Forest soon.
Our Contact Information
*{{Organization Name}}*
*{{Organization Address}}*
*{{Organization Phone}}*
*{{Organization Website}}*

*{{Unsubscribe}}*