2023 CONSERVANCY NEWS

OCTOBER

So far October has brought us cooler temperatures, gorgeous fall foliage, and even some snowfall in high elevation areas! October is one of the busiest months for our area and for Pisgah, and we hope you're finding the time to get out there and enjoy the seasonal transition and the magic it brings to our WNC mountains.

Speaking of busy, things are continuing to ramp up for TPC! Three seasonal Trail Crew members just joined our team, project work is getting started on the Searcy Creek Connector trail and the Black Mountain Trailhead Connector trail, we just wrapped up the 2023 Pisgah Project Bike Raffle, and we had a great time at the 2nd Annual Sugarloaf Mountain Jam.

Read on to see what we've been up to, and please consider a donation to TPC so we can keep making a positive impact for Pisgah!

Happy adventuring,

Nina

Congratulations Again to Our 2023 Pisgah Project Bike Raffle Winner!

Russell Turpin from Columbia, SC was our lucky winner! If you missed the drawing, you can check out the livestream on the Cane Creek Cycling Components Facebook page. Russell picked up his brand-new bike a few weeks ago and will also be heading to Pilot Cove soon for a two-night stay!

You all purchased 1,338 raffle tickets this year and helped us raise $41,100, bringing the total raised since the first Pisgah Project raffle in 2017 to OVER $250,000! We are blown away by the support from Cane Creek Cycling Components, our bike build and display partners, and everyone who has entered this raffle over the years.

The 2023 raffle was made possible by Cane Creek Cycling Components and backed by remarkable partnerships with REEB Cycles, Industry Nine, Thomson Bike Products, Pilot Cove, Continental Tire, crankbrothers, Fizik, TRP Cycling, and Endlessbikeco.

Thank you to our friends at The Hub and Pisgah Tavern, Gravelo Workshop, REI Asheville, D.D. Bullwinkel's Outdoors, Motion Makers Bicycle Shop, Piney Mountain Bike Lounge, The Riveter, and Oskar Blues Brewery for hosting the bike on its tour around WNC!

Make a Monthly Donation to Pisgah

Did you know you can set up a monthly donation to TPC? Simply visit our donation page and select "Show my support by making this a monthly donation." Monthly donations are a convenient way to support our ongoing efforts in the Pisgah Ranger District and allow you to show your support throughout the year!

We love seeing so many TPC license plates on the road. When you purchase or renew your TPC plate online or at your local license plate agency for just $30, $20 comes right back to Pisgah!

We're a Living Wage Certified Employer!

We're proud to announce our Living Wage Employer certification through Just Economics, a 501(c)3 nonprofit based in Asheville that works to educate, advocate, and organize for a just and sustainable economy that works for all in WNC.
Welcome Aboard to Adam Skoog!
We're excited to announce that Adam Skoog of Looking Glass Realty Asheville has joined our Board of Directors! Adam is a Hickory, NC native and moved to Asheville shortly after college. Adam is now a Managing Member and Co-Founder of Looking Glass Realty Asheville, which officially opened its doors in early 2019. Adam and his business partner, Dylan Glasgow, have built a dedicated team of real estate agents from the ground up.
"TPC consistently leads successful projects that focus on sustainable improvements to PNF's trail systems, access points, and the overall well-being of the forest. The well-being of PNF is directly related to the well-being of our mountain region and the wonderful people that call it home. I am honored to be a part of TPC's Board that is made up of individuals who share the same drive to preserve and protect the well-being of PNF and its future."
We Had a Blast at the 2nd Annual Sugarloaf Mountain Jam!
Thank you to Deerwoode Reserve, Oskar Blues, Jupiter Coyote, Nuthin Fancy, and everyone else who was involved in putting together a successful Sugarloaf Mountain Jam! We had a blast meeting new faces and selling beer that was generously donated by Oskar Blues to raise funds for TPC.
Deerwoode Reserve in Brevard is located on beautiful conservation land with dog-friendly cabin accommodations and a large event venue perfect for families, getaways for couples, solo retreats, weddings, large gatherings and more.
Jeff's Trails Corner 10/19/2023
Fall is a great time for trail work, with cooler temperatures, lower humidity, and generally drier conditions. This Fall is shaping up to be a busier one than ever on the Pisgah with our TPC Trail Crew in full swing, multiple new trail construction contracts under and on the way, and our partner volunteer trail groups carrying on the good work across the Forest.
The TPC Trail Crew has grown this October, with 3 new trail crew members joining our ranks for a 10-week season this fall. Join me in welcoming Kate Bergbower, Kevin Mathews, and Layton Stephenson to the team! Fresh off their summer season with Great Smoky Mountains National Park, they each bring significant trails experience with the National Park Service, US Forest Service, and American Conservation Experience (ACE) and have hit the ground running under the leadership of our Trail Crew Leaders Michael and Alexi. Since their start on October 9th, they have brushed out 5 overgrown miles of upper South Mills River and Buckhorn Gap trails, restored and constructed new water diversions on the entirety of Looking Glass Rock trail, and begun a major project improving the heavily eroded section of the Art Loeb trail between Ivestor Gap and Tennent Mountain. Currently a ditch 3-5 feet deep, the crew's work constructing locust staircases topped with integrated water bars and filled behind with crushed rock and dirt will restore the trail to grade level, mitigate future erosion, and allow for drainage on this beautiful high-country trail. Assisting them in this project is the latest addition to TPC's fleet: a Polaris Ranger 1000EPS, a workhorse of a UTV perfect for hauling rock, locust, and tools in and out of remote worksites on the Forest. We are truly excited to have the full crew on and geared up for this first of three fall seasons of trail work focusing on the trails impacted by Tropical Storm Fred, and I am eager to see all the great work they will accomplish come December.
In addition to the work of the TPC crew, this month has seen significant progress on major new trail projects with local professional trail builders on the ground executing two different TPC contracts. Trail Dynamics has continued their work, returning this month to construct a rock armored bottomless culvert on the soon-to-be completed Black Mountain Trailhead Connector trail. A major structure with beautiful stonework, this stone arch bridge will surely become a signature feature of our Pisgah trail network once completed. Currently waiting for the quarry to catch up with his demand for stone, Ed Sutton and his crew will return in a few weeks to put on the finishing touches of additional rock armoring, final grading, and installation of bull rails on the sides of the structure. Great thanks to the Transylvania County Tourism Development Authority (TCTDA), The HUB and Pisgah Tavern, REI Asheville, and the National Forest Foundation for their financial support of this project.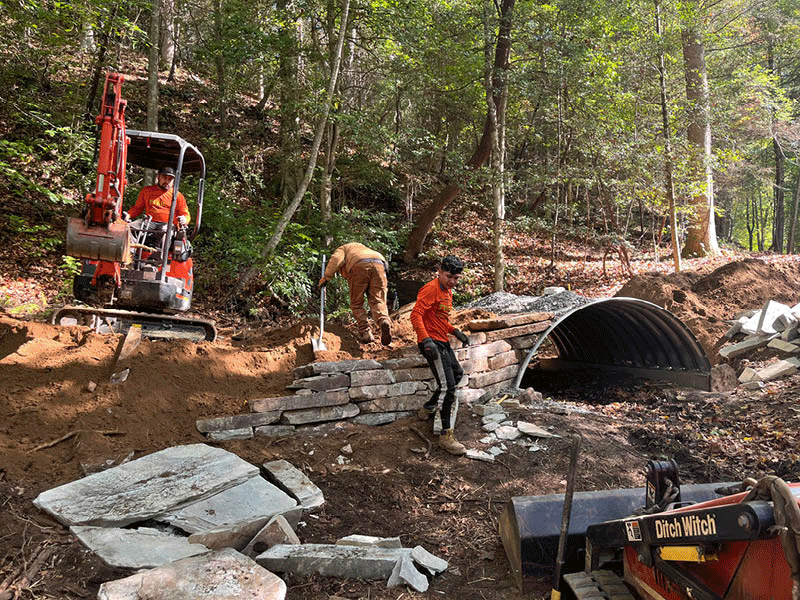 Shrimper Khare and his crew have begun staging equipment and getting started on construction of the Searcy Creek Connector trail, a 1.15-mile trail that will connect the top of Searcy Creek Road (FS 5095) with the top of the Butter Gap trail. This is a truly exciting moment as it marks the first phase of on-the-ground implementation of the larger Butter Gap project following years of planning, flagging, mapping, contracting NEPA and archaeological surveys, and all the other tasks and details that go into the development of a major trail project. Many thanks to the Fernandez Pave the Way Foundation and The HUB and Pisgah Tavern for their financial contributions to this TPC contract. I am certain that Mr. Khare and his crew will set the bar high for following work on Butter Gap, with professional trail builders contracted by Pisgah Area SORBA slated to begin work on Upper Butter Gap this coming January.
Looking ahead, 2024 will be a big year for TPC in the area of Non-Native Invasive Species (NNIS) eradication. A widespread problem across our forests and one that gets too little attention, non-native, invasive plant species are a threat to the biodiversity and overall health of our forests, outcompeting slower growing native species and able to spread swiftly over large swathes of land. A new agreement with the US Forest Service finalized this September will authorize TPC to hire a crew to tackle NNIS on the Pisgah as part of the Catheys Creek Watershed Restoration Action Plan. As the name suggests, the work is focused on the Catheys Creek watershed with a particularly large proportion of deleterious non-native, invasive plants located in and around the Kuykendall Group camp area. Planning is currently underway with the goal to hire two year-round NNIS crew positions early next spring to be supplemented by two more NNIS interns in the summer months. While this specific project has an approximately 2-year timeline, we aim to use this opportunity to build expertise in NNIS work and hope to carry this program forward to address other NNIS-choked sites on the Pisgah in following years.
Here's to another great month, as well as to ongoing projects and upcoming opportunities! As always, thanks to all of you for your continued support of The Pisgah Conservancy and Pisgah National Forest!
Our Contact Information
*{{Organization Name}}*
*{{Organization Address}}*
*{{Organization Phone}}*
*{{Organization Website}}*

*{{Unsubscribe}}*